600w GROW LIGHT KIT- LUMI DIMMABLE DIGITAL BALLAST + SUNBLASTER HPS LAMP
---
What's In The Box? 

1 x LUMii 600w DIGITA Ballast

1 x MAXii Reflector

1 x 600w SunBlaster Lamp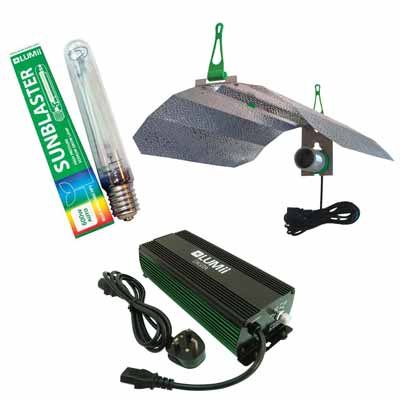 Technical Information 
LUMii 600W Digital Eco Ballast
The LUMii DIGITA ECO Ballast is a fully electronic ballast. This technology is micro-processor controlled and works at higher frequency (hertz) than the standard magnetic ballast meaning more light gets to your plants. It is also more efficient meaning more output per watt of energy consumed. The LUMii DIGITA ECO Ballast is dimmable and also, has a boost setting for each lamp size meaning you can take control of the light output.

The LUMii DIGITA ECO Ballast is one of the quietest ballasts on the market with no hum or vibration (this is common with magnetic or fan cooled electronic technology).

With the new LUMii DIGITA ECO Ballast less wattage is lost in the transmission of power from the wall socket to the lamp. Better power management means more light to the plant and less energy consumed. The quality of the light produced is also a lot more stable thanks to LUMii's power management software built into the unit that monitors for lamp degradation and power fluctuation from the grid, this produces a higher hertz rate and optimum light levels.
    LUMii MAXii Reflector
The LUMii MAXii is a simple and easy-to-use Dutch barn style reflector. It is an open-ended, highly polished and dimpled lightweight reflector, which gives an efficient and even distribution of light. Unlike others on the market, the LUMii® MAXii includes a unique lamp holder that is adjustable and designed to fit all E40 lamp types. All earth requirements are incorporated into the lamp holder itself; this safety feature means that there is no need for additional components.

A unique feature of this reflector is that with the addition of the LUMii HID to CFL Converter kit, it can accept a CFL lamp

Size: Height: 190mm | Width: 430mm | Length: 470mm
    LUMii 600 watt Sunblaster HPS Lamp
The LUMii SUNBLASTER HPS offers exceptionally high output. Couple this with raised spectral discharge in the reds and blues (exactly the right spectral energy distribution curves that your plants need to thrive) and a long lamp life, and you have the perfect plant grow light. 32,000 life hours and colour temperature of 2000K.AT HYDROCULTURE UNIT 87 BARRY ST OLDHAM OL13NE 07545642528 OR 01616788711
---
Share this Product