---
 Clonex Rooting Gel 
The most effective rooting compound available. Just dip cuttings into Clonex Rooting Gel and insert into the rooting medium – follow the illustrated instructions for great results every time.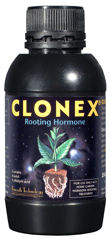 Clonex is the premiere rooting compound. A blend of hormones, vitamins and nutrients in a bright amethyst gel.
Clonex coats the exposed tissue with root promoting agents and protects the area while the new roots form.
Clonex gives great results - even with those more difficult subjects.
Clonex RED is a stronger formulation, intended to work with hardwood cuttings. Limite
---
Share this Product
---
More from this collection